Focus and Scope
MISSION
Journal of Bioenergy and Food Science's mission is the diffusion of the knowledge derived from researches and bibliographic reviews, through publications of both national and international coverage.
PRESENTATION
The Journal of Bioenergy and Food Science is a quarterly electronic publication of the Federal Institute of Amapá – IFAP. The aim of this work is to contribute to the dissemination of knowledge through the publication of scientific papers (unpublished and original articles, reviews and scientific notes) in Portuguese, Spanish or English, in the areas of Agricultural Sciences, Food Science and Technology, Biotechnology and Biodiversity, Chemistry, Environmental Sciences, and Interdisciplinary. Through this, work the editorial board of the journal invites researchers, professionals, undergraduate and postgraduate students and to share their experiences with the scientific and academic community through our electronic journal.
EDITORIAL POLICY
The policy of the Editorial Board comprises the publication of original articles that may significantly have an impact on Agrarian sciences. Items will be evaluated by at least three consultants of the research area of knowledge, educational institutions and/or national and international research, proven scientific production. ACCEPTED if you have two favorable opinions, and REJECTED when two opinions are unfavorable.
Section Policies
Agrarian sciences
Articles about Crop protection, Soils, Genetics and Plant Breeding, Agricultural Engineering, Agronomy and Soils and Plant Nutrition
Editors
Vinicius Campos
Yordan Muhovski
| | | |
| --- | --- | --- |
| Open Submissions | Indexed | Peer Reviewed |
Bioenergy and Biotechnology
Articles about biofuels, agroenergy, biomass, biorefineries and bioprospecting, industrial microbiology and fermentation, applied microbiology
Editors
Yordan Muhovski
Ana Caroline Oliveira
Victor Hugo Sales
| | | |
| --- | --- | --- |
| Open Submissions | Indexed | Peer Reviewed |
Food Science and Technology
Articles about food science and technology, food engineering and nutrition
Editors
Neila Cortez
William Cortez-Vega
Irene Freitas
Victor Hugo Sales
lknur Uçak
Vanessa Viera
Harvey Alexander Villa-Vélez
| | | |
| --- | --- | --- |
| Open Submissions | Indexed | Peer Reviewed |
Review
Editors
| | | |
| --- | --- | --- |
| Open Submissions | Indexed | Peer Reviewed |
Publication Frequency
Trimestral
Open Access Policy
Esta revista fornece acesso aberto imediato ao seu conteúdo, com o princípio de que a disponibilização da pesquisa gratuitamente ao público apóia uma maior troca global de conhecimento.
Archiving
This journal utilizes the LOCKSS system to create a distributed archiving system among participating libraries and permits those libraries to create permanent archives of the journal for purposes of preservation and restoration. More...
Ethical guidelines
(Based on existing Scopus requirements and Committee on Publication Ethics)
Editors
An editor (editors, associate editors, etc.) should provide impartial consideration to all manuscripts offered for publication, judging each on its particular feature without regard to race, religion, nationality, sex, seniority, or institutional affiliation of the author(s). An editor should review and treat a manuscript submitted for publication with all reasonable speed. An editor takes sole responsibility for accepting or rejecting a manuscript for publication. An editor may seek assistance on a manuscript from specialists chosen for their expertise and fair judgment. An editor should not reveal any information about the manuscript under consideration to anyone other than the author and designated reviewers until after the evaluation process is complete. An editor should respect the intellectual independence of authors.
Authors
JBFS considers an AUTHOR who was responsible for a part of the work at least. AUTHORS should be able to explain in deep the problem in the study. For JBFS, all authors are RESPONSIBLE for the content they submitted. The CORRESPONDING AUTHOR is responsible for the agreement of all the AUTHORS and to keep them informed about the submission process since the first submission of their manuscript. He is responsible for providing the license to publish, in case of acceptance, on behalf of all the AUTHORS.
JBFS assumes that submitting the paper implies in total agreement from ALL the AUTHORS. For manuscripts with more than 8 authors, all the authors should provide a declaration specifying what was their contribution to the manuscript.
It is not acceptable for JBFS to consider for publication anything that was PREVIOUSLY PUBLISHED, neither entirely nor in parts in other Journals. Anything sent to JBFS must not be under analysis anywhere else. Simultaneous submissions to JBFS and any other journal, is considered a major conduct flaw, and ALL the AUTHORS will be definitively banned, and all their previous publications in JBFS will be publicly retracted. Plagiarism and self-plagiarism will be treated the same way. Multiple manuscripts, dealing with closely related subjects and/or variables are discouraged as long as they could figure in a single paper.
Reviewers
JBFS invites peers to review its submissions, relying on their expertise, curricula and their will to review them as volunteers. By accepting to REVIEW a manuscript, the REVIEWER commits himself to do so in due time. Delays are extremely negative to the review process and make it last much more than it should. When a REVIEWER is requested, he is gently asked TO ANSWER THE INVITATION E-MAIL, informing if he is or not willing to review the manuscript. It is a gesture of politeness and it avoids delays too. By accepting to review a manuscript, the REVIEWER declares that no conflicts of interest exist, and he is doing his revision for the wealth and progress of Science. Those reviewers who answer our requests, agreeing or not, and those who respect the deadlines, are scored positively, and eventual submissions they could send to JBFS will be treated with priority.
Publishing process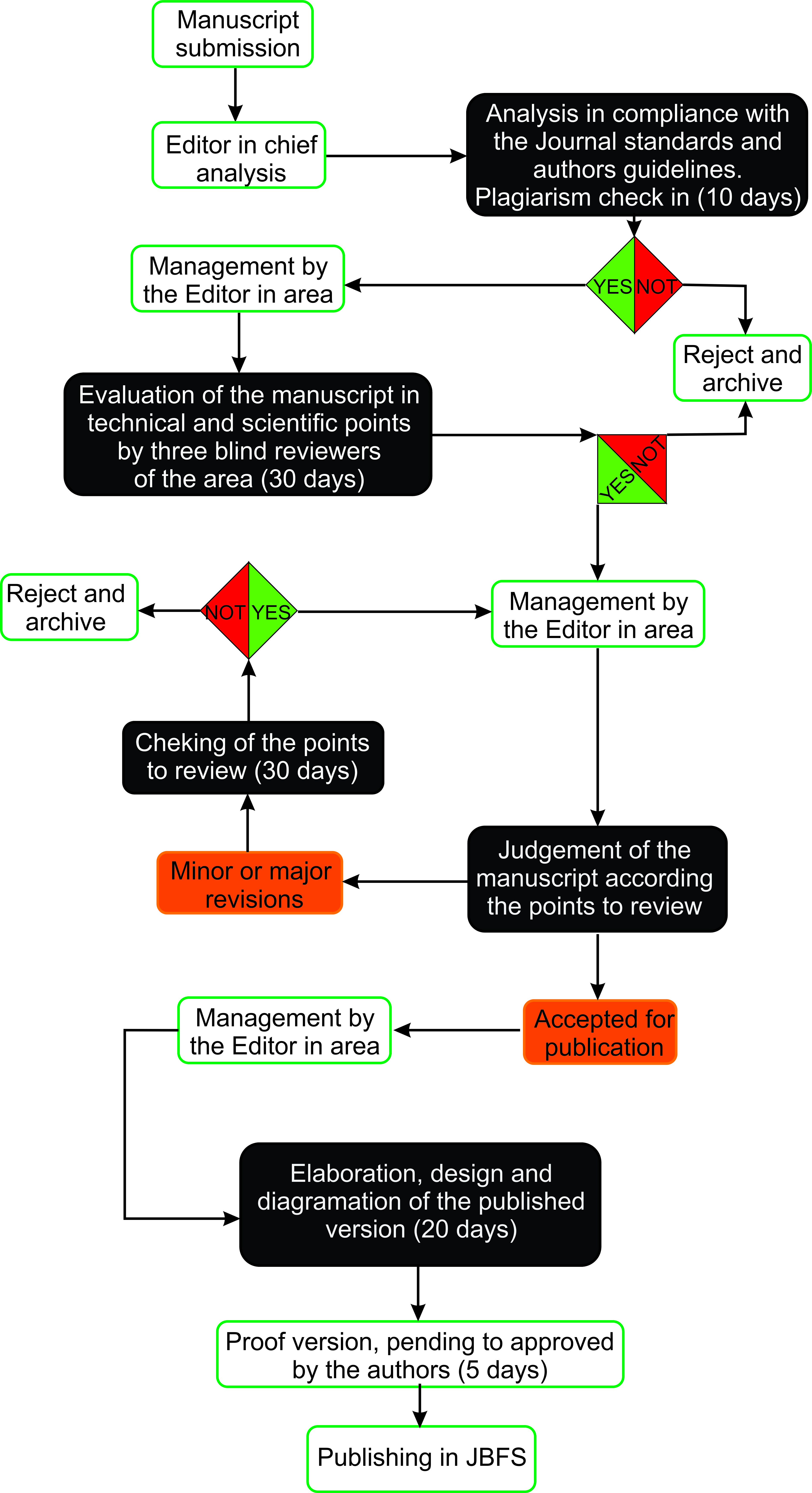 Average time to review (65-95 days)
Average time to publish (151 days)**
**Publication depends on the final composition of the edition
In press (Corrected proofs)
Madani, R.A., Kermani, S., Sami, M., Esfandiari, Z., & Karamian, E. (2020). Risk assessment of heavy metals (chromium, nickel, lead, copper, and iron) in fast foods cosnumed in Isfahan, Iran, Journal of bioenergy and food science, 7(4), e3032020. Publication on 1st October 2020.
Koc, C., Emino?lu, M. B., Yegül, U. & Seyhan, G. (2020). Design and Modelling of a Milk Cooling and Storage Unit Based on Peltier and PV Panels, Journal of bioenergy and food science, 7(4), e2962020. Publication on 1st October 2020.
Monteiro, R. de S., Lima, M. B., Sampaio, N. P., Mezadri, H., Santos, O. D. G. dos, & Pereira, P. A. P. (2020) Morphological characterization of hydrocolloids using scanning electron microscopy and evaluation of their effects in a model system of low-calorie fruit jelly, 7(4), e3102020. Publication on 1st October 2020.
Policy for article removal and retractions
To maintain confidence in the content published in its electronic archives the Journal of Bioenergy and Food Science recognizes the importance of maintaining the integrity of the information's to researchers and librarians.
Procedure performed in articles in the press that present old versions, errors, accidentally sent twice, articles that represent infractions of codes of professional ethics, multiple submissions, problems with authorship, plagiarism or fraudulent use of data. They will be removed and replaced by a file with a note "Retraction: [title of article]" signed by the authors and/or editor stating that the article was withdrawn because it is in disagreement with the journal's policies.